Published: Thursday, July 19, 2018 02:12 PM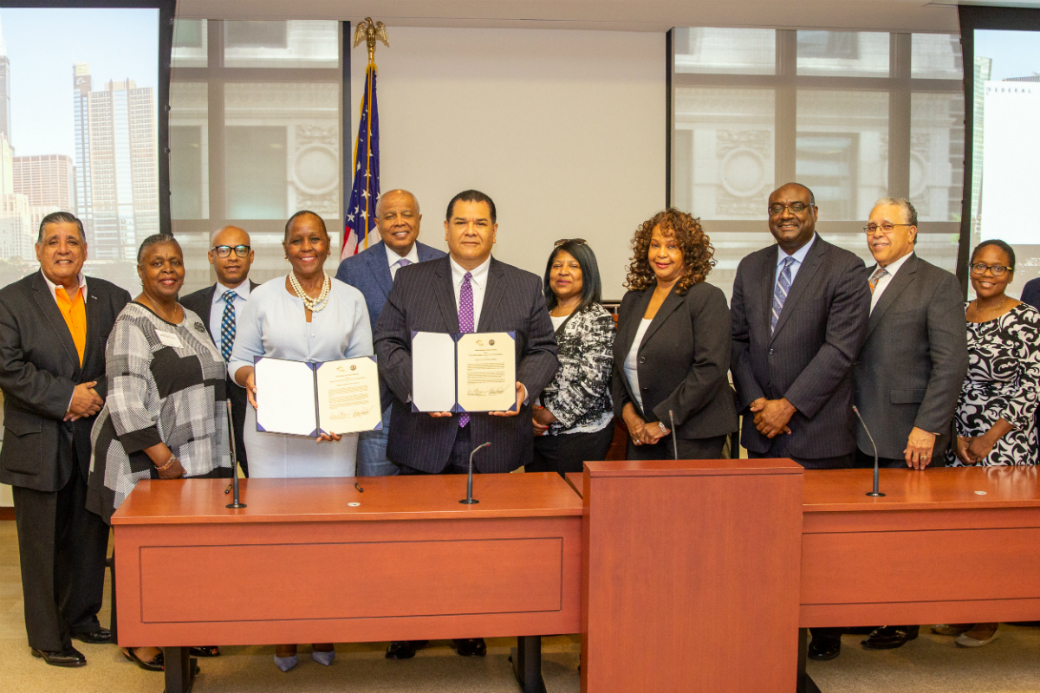 CHICAGO – Senator Martin A. Sandoval (D-Chicago) and Sheila Morgan, President & CEO of the Chicago Minority Supplier Development Council (ChicagoMSDC), made history Tuesday by signing a memorandum of understanding to begin a partnership aimed at increasing minority participation in state contracting.
The momentous partnership was cemented at a ChicagoMSDC Minority Business Enterprise Input Committee event at the Federal Reserve Bank of Chicago.
"Who would have known that a kid from the Back of the Yards would be speaking at the Federal Reserve Bank of Chicago today working to unite the Southwest Side of Chicago," Said Sandoval, Chairman of the Special Committee on Supplier Diversity. "Today marks the beginning of a long road ahead to bring about economic justice to all the minorities that have been forgotten for generations, and we will not stop until we succeed!"
Sandoval reiterated his dedication to the advancement of opportunities for minority business enterprises, highlighting his long-standing devotion to promoting legislation to increase supplier diversity programs among corporate procurement departments. This led him to establish a Senate Special Committee on Supplier Diversity with the support of Senate President John J. Cullerton.
"We now stand shoulder to shoulder ready to become a beacon of hope for the communities we serve and live in," Sandoval said. "This is how you combat crime and homelessness in Illinois. Expanding opportunities and creating jobs is how we will achieve peace on the Southside where I grew up."
ChicagoMSDC is an Illinois supplier-development nonprofit organization that certifies Minority Business Enterprises (MBE) of all sizes and across a wide range of industries. It also provides educational programming to connect MBEs to greater resources while advocating for its members in the public and private sectors.
In support of their mutual mission, ChicagoMSDC and Senator Sandoval agreed to enter into the historic partnership to promote supplier diversity programs and dedicate resources to support efforts to increase supplier diversity across Illinois.