Published: Thursday, July 26, 2018 02:15 PM
Minorities drastically underrepresented in state contracts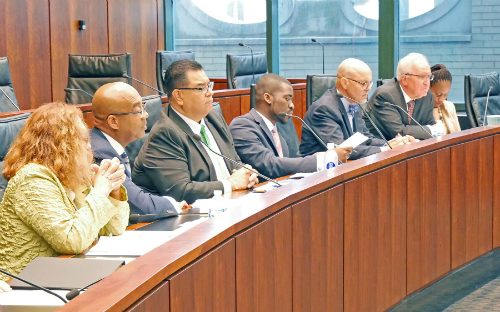 CHICAGO – In response to the state's poor record of contracting with women and minorities despite a program specifically designed to do so, a special Senate committee opened a new inquiry Tuesday.
Many public universities, including the University of Illinois, Northern Illinois University, Southern Illinois University and Eastern Illinois University, did not come close to meeting the goal to spend 20 percent of their contract dollars with businesses owned by minorities and females last fiscal year.
State Senator Martin A. Sandoval (D-Chicago), the Special Committee on Supplier Diversity's chairman, called the meeting to find out why universities failed to meet the requirements of the Business Enterprise Program, what is being done to make up ground and how the state could better force compliance.
"There's a lot of work to be done," Sandoval said. "We have to be accountable to the people we serve and we have to direct our legislative efforts toward pushing state agencies to meet their goals."
Sandoval said Central Management Services did a poor job of explaining the Business Enterprise Program to the committee, which came to the conclusion that reform is needed.
"CMS had an hour and a half to explain this program to us and they said nothing," Sandoval said. "CMS is in charge of this program and it's kind of like the wolf guarding the henhouse. There is no oversight except from a volunteer council."
State Senator James Clayborne Jr. (D-Belleville), who has advocated for supplier diversity alongside Sandoval, demanded answers as well.
"For years I've been asking why the state can't include minorities and women and I always get the same excuses: 'We're working on it, it's difficult to do, we already have established relationships with most of our vendors," Clayborne said. "We need solutions – not excuses – for these failures. We need accountability and creativity to include minorities in state contracts."
Assistant Majority Leader Kimberly A. Lightford (D-Maywood), a former CMS employee that worked with the BEP, had strong sentiments for CMS and the universities as well.
"You're not doing a good job in identifying African American and Latino business owners, period," Lightford said. "There are no deadlines, there's no accountability. It's a vicious cycle and it is continually happening throughout the state of Illinois. There are always excuses when it comes to minority vendors. If there is something we could do on the legislative end, please let us know. We will work on it."
Sandoval ended the four-hour meeting by informing the universities that he would be visiting their campuses to examine practices and help them find ways to improve on their BEP numbers.