Published: Wednesday, August 15, 2018 02:28 PM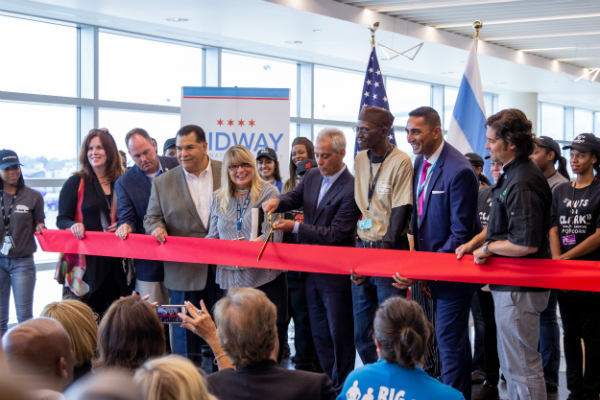 CHICAGO – State Senator Martin A. Sandoval joined Chicago Mayor Rahm Emanuel, the Chicago Department of Aviation and several community leaders today to open a new food hall at Midway International Airport.
More than 1,000 Chicago residents have already been hired as part of the redevelopment that will bring a total of more than 70 new food and retail brands to the airport by 2020.
"Any job-creating development in our communities is a good thing," Sandoval said. "Chicago is a transportation hub of the world, and it is important to keep our airports up to date. This, combined with the job creation is a win-win."
The new 15,000-square-foot food hall is located in Concourse A, a previously undeveloped space. The food hall features seating for 200 travelers, charging stations and Midway's first-ever sushi bar among several other dining and retail choices. The new venues include: Arami, BIG & little's, Billy Goat Tavern, Camden Food Co., iStore, Nuts on Clark, Porkchop, Reilly's Daughter, and Woodgrain Neapolitan Pizzeria
"It's good to know that this facility is such a major focus as an economic engine," Sandoval said. "This sets the bar high for other airports and this project is exceeding minority participation on the construction side and on the vendor side. This is a great sign because it reflects the diversity of our city."
Midway's concessions renovation was made possible through a $75 million investment by Midway Partnership and did not require taxpayer funding. The program is anticipated to double permanent concessions jobs within three years, with 1,400 total hires expected. Overall revenue and money spent per passenger would continue to increase as well.
Over the next three years, Midway's existing concessions will be completely renovated and expanded from 40,000 square feet to more than 70,000, and more than 70 new restaurants and retail spaces are scheduled to be added in several phases.
The next phases of this development are set to begin later this year, including a host of additional new Chicago-based or inspired brands, including: Big Shoulders Coffee, DeColores Burrito, Home Run Inn, Hubbard Inn, Harry Caray's 7th Inning Stretch and more.