Published: Friday, August 24, 2018 09:34 PM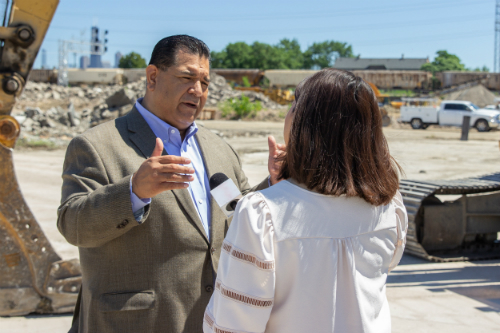 CHICAGO – With the announcement of his plan to veto three immigrant protection bills today, Gov. Bruce Rauner put into action the anti-immigrant rhetoric his party has embraced, State Senator Martin A. Sandoval (D-Chicago) said.
"He can say whatever he wants to about being a diversity governor, but this shows he subscribes to the same talking points and has the same anti-immigrant ideals as Donald Trump, who has done irreparable harm to immigrant communities," Sandoval said.
Rauner said he will veto three measures, including a bill which would prohibit landlords from questioning a tenant's immigration status as a means of harassment or to force an eviction. Rauner said he would also veto the Immigration Safe Zones Act to protect immigrants in courthouses, schools, libraries, medical facilities and shelters, and the VOICES Act (SB 34), which would have set consistent rules for law enforcement agencies that work with survivors of domestic violence, sexual assault, trafficking and other crimes.
"These are measures that would have given immigrants basic human rights and protected them from deportation simply for reporting crimes," Sandoval said. "As we draw closer to November, Rauner gets closer and closer to being a Donald Trump clone than an independently-minded leader."
Rauner planned to veto the bills despite calls for his signature from former Republican Gov. Jim Edgar in a newspaper op-ed this week.
Sandoval said Rauner's vetoes will make Illinois' streets more dangerous.
"The governor and his boss Donald Trump would like everyone to believe that all immigrants are criminals. Obviously this is naïve and inhumane," Sandoval said. "But with this veto, the governor prevents law-abiding, tax-paying immigrants from being able to report crimes without fearing deportation. These vetoes will make all of us less safe."
Worst of all, Sandoval said, Rauner used his announcement of his planned vetoes to politicize the recent murder of a young woman in Iowa.
"There's no more beating around the Bush," Sandoval said. "Gov. Rauner has begun to embrace this anti-immigrant rhetoric because he thinks that's what his voters want. Vetoing these measures is mean-spirited and dangerous. The governor should know this and should have more faith in the decency of the people of Illinois."