Published: Tuesday, May 01, 2018 11:29 PM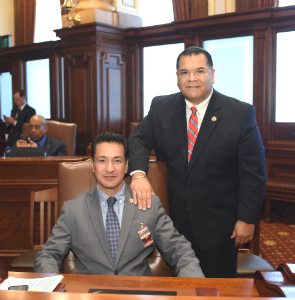 SPRINGFIELD – Senator Martin A. Sandoval (D-Chicago) hosted world-renowned Mexico City journalist Federico La Mont at the Illinois State Capitol this week.
La Mont, a member of the Mexican Editorial Organization, took part in a three-day expedition to the Chicagoland area with other Mexican leaders.
Sandoval invited the journalist to Springfield to give him a look at the legislative efforts taking place on behalf of Mexican immigrants.
"Anytime we can bring around someone as influential as Federico, it's a good thing for Mexican people," Sandoval said. "We showed him how committees work and how Mexican-Americans can lobby their legislators to protect their rights."
La Mont said he learned about the legislative process in his visit, noting that protections of immigrant rights must be obtained through engagement of legislators at the Capitol as well as in their home districts.
The Mexican Editorial Organization consists of 32 newspapers and is one of the most influential news organizations in the world. La Mont has written features, news and columns for the organization.
He also interviewed Sandoval – the son of Mexican immigrants and recipient of the Migrante Solidario award – prior to the end of the visit.
"I'm proud of my Mexican heritage and I am proud to host someone like Federico who works so hard to promote our role in the world," Sandoval said.