Published: Thursday, May 03, 2018 04:21 PM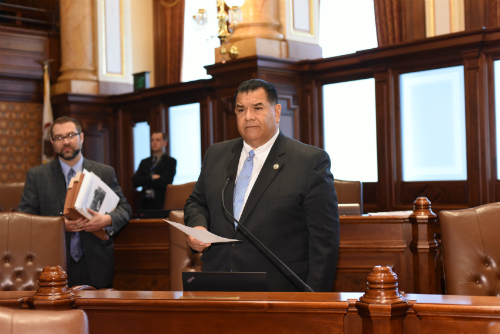 SPRINGFIELD – State Senator Martin A. Sandoval (D-Chicago) continues to combat a nationwide trend of deportations by fighting for immigrant rights in Illinois.
Today, Sandoval – co-chairman of the Illinois Latino Caucus – co-sponsored and helped pass a bill to create safe zones for immigrants and limit coordination between those zones and federal immigration forces.
"Donald Trump thinks he has unlimited authority to target and deport Mexican people. He's even threatened to get the National Guard involved and our governor said he would oblige," Sandoval said. "This bill sends a message that America is still a welcoming place and Donald Trump can't bully us into submission."
The legislation, Senate Bill 35, would limit assistance with immigration enforcement agents at safe zones that would include state-funded schools, medical treatment and health care facilities, public libraries, facilities operated by the Secretary of State and state courts, among others.
It would also prohibit applications for state benefits from requiring information related to citizenship or immigration status unless otherwise required by law.
"It's a difficult time to be an immigrant in America," Sandoval said. "These are hard-working people like my mother and father, who are Mexican immigrants. Whatever I can do to protect these people, I will do. And this is a good step."
The bill was supported by the Illinois Coalition for Immigrant and Refugee Rights (ICIRR), National Immigrant Justice Center and several other immigrant advocacy groups. It passed the Senate Wednesday and will now move to the House for consideration.