Published: Friday, May 04, 2018 04:11 PM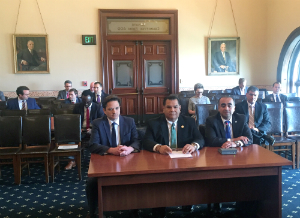 SPRINGFIELD – State Senator Martin A. Sandoval, co-chairman of the Illinois Latino Caucus, worked with the Hispanic American Construction Industry Association to advance legislation this week to help minority contractors get paid.
"The contractor industry is a major employer in Latino communities in Illinois," Sandoval (D-Chicago) said. "And there are many Latino contractors that would like more transparency regarding the payment of their contracts. This legislation delivers that."
Sandoval's Senate Bill 2533 requires the Department of Transportation and the Capital Development Board to declare whether vouchers submitted to the comptroller include a payment to a subcontractor. If it does, the agencies must include the name of each subcontractor and the amount owed to them.
The information would be required to be posted on the comptroller's website.
The bill pertains to Business Enterprise for Minorities, Women, and Persons with Disabilities Act, which promotes minority-owned and women-owned businesses and their inclusion in the state's procurement process as both prime and subcontractors.
The bill passed the Illinois Senate State Government Committee Wednesday and will head to the floor for a full vote.