Published: Wednesday, June 20, 2018 02:05 PM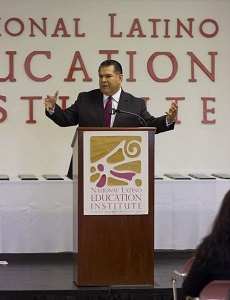 CHICAGO – State Senator Martin A. Sandoval (D-Chicago) has urged President Donald Trump to bring an immediate end to the separation of children from their parents at the U.S. border.
"There's no other way to say it: This policy is horrifying," Sandoval said. "These people come to the United States of America seeking asylum in what is supposed to be a land of opportunity and they have their children ripped from their arms. This has to stop."
Sandoval, the son of Mexican immigrants, has spent much of the summer speaking at graduations from the elementary to high school level.
"I look at the crowds of these bright young students and I know that many of them are immigrants," Sandoval said. "Yet I know children their age, just as talented, just as innocent, are having their lives torn apart on our country's border because of the president's political ransom. It's sickening."
Recent surveys have shown more than two-thirds of Americans oppose the child separation policy and Sandoval said he was saddened the number in opposition was not higher.
"This isn't a game. These aren't gang members being detained. These are children. These are people coming to our country seeking asylum and looking to contribute," Sandoval said. "My mother and father crossed the same border with the same hopes for America that all of these people have. Donald Trump is dashing those hopes for generations to come because he wants leverage to build an ornamental wall."
Sandoval urged all Americans supporting the policy to view images of the detention centers and read articles about the detainments from varied sources on the internet.
"We all owe it to these children, to ourselves and to our nation to look at what we are doing to these families," Sandoval said. "I call upon President Trump to fix this immediately."