Created: Wednesday, April 16, 2014 03:11 PM
Published: Wednesday, April 16, 2014 03:11 PM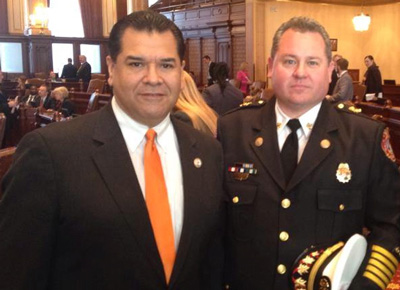 SPRINGFIELD – State Senator Martin Sandoval (D-11) took the opportunity on the senate floor to recognize Burbank Fire Chief Sean Maloy, VP of the IL Fire Chiefs Association, for his leadership and commitment to the people in his region.
"Chief Maloy of Bedford Park is a credit to his profession," said Senator Sandoval. "May God bless him and his effort to protect our families."
The Bedford Park Fire Department is located in one of the most unique villages in the southwest suburbs due to its small residential area surrounded by manufacturing, tank farms, a major railroad switching yard, an inter-modal facility and a hotel and retail corridor.