Published: Tuesday, August 06, 2013 02:01 PM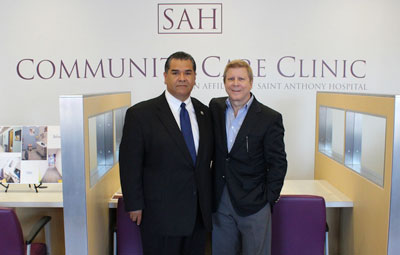 On August 3, SAH Community Care Clinic, an affiliate of Saint Anthony Hospital brought together community leaders, patients and residents of Little Village and North Lawndale to celebrate the grand opening of its newly renovated clinic located at 3059 W. 26th St. within the Little Village Plaza in the heart of Little Village.
In 2012, Saint Anthony Hospital obtained through a long-term lease agreement the 18,000 square foot medical office that was formerly a Department of Health City clinic. The clinic renovation has provided over forty construction jobs and approximately forty healthcare positions.
"St. Anthony Hospital and I will ensure that our community gets the respect they deserve when it comes to healthcare services," said Senator Martin Sandoval.
"We have made a significant investment in Little Village with the renovation of the clinic and feel that the investment shows our commitment to improving the overall health of this community," stated Guy A. Medaglia, President & Chief Executive Officer, Saint Anthony Hospital.
SAH Community Care Clinic will provide a variety of specialty services including occupational medicine, rehabilitative services, radiology, ultrasound and dialysis. SAH Community Care Clinic has partnered with Esperanza Health Centers who will offer family practice, pediatric and obstetrics and gynecology services and Sonrisa Family Dental will provide quality and affordable oral health care.
"For us, it's about working with members of our community to make people healthy," says Medaglia. "When we invest in a community, we want to bring the best partner to the table that will provide the level of quality care that community deserves. The services in each clinic are a reflection of the community's needs."
About Saint Anthony Hospital
For more than 115 years, Saint Anthony Hospital has served more than 410,000 residents on Chicago West and Southwest Sides. Saint Anthony Hospital is committed to providing quality health and wellness services, and a wide variety of free bilingual community health education/outreach programs. Saint Anthony Hospital staff work with community-based organizations, schools, parishes and other agencies to offer health education, early childhood and mental health services. More information is available at www.SAHChicago.org or call 773.484.1010. Find us on Twitter @SaintAnthonyHos and on Facebook at Saint Anthony Hospital Chicago.
Community Impact
35 construction jobs of which 26 local hires equaled 49.5% of total man hours on the job

The project was comprised of 85% MBE and 6% WBE

36 permanent professional jobs

Esperanza Health Centers – 17 new jobs

Sonrisa Family Dental – 5 new jobs

SAH Community Care Clinic – 14 new jobs
SAH Community Care Clinic Overview
Since 1898, Saint Anthony Hospital has been an integral part of the community, serving Little Village, North Lawndale, Pilsen, Back of the Yards, Brighton Park and many of the other nearby neighborhoods. In 2007, we renewed our commitment to the community to re-build a compassionate health and wellness organization that focuses on high quality, low cost, and strong customer service. We talked with members of the community as well as with our own physicians and employees to learn through their experiences and everyday struggles what new vision our community hospital had to embrace.
While continuing Saint Anthony's tradition of caring for the community and never turning anyone away, we are moving forward with the next phase of our innovative strategic plan, investing still more in the health of the community, by rebranding and renovating our neighborhood outpatient clinics.
Last year, we renovated our Kedzie Avenue Clinic in Brighton Park to provide needed services, like Immediate Care, in a neighborhood facility that is welcoming and comfortable. More recently, obtained through a long-term leasing agreement, 18,000 square feet of space in the Little Village Plaza, less than two miles from the hospital. SAH Community Care Clinic Little Village is a family-friendly clinic with top of the line medical equipment and a professional clinical staff that is committed to the success of the residents of the community offered in a beautiful space. In following our innovative model, we are partnered with an FQHC and dentistry, as well as offering our specialty services like dialysis, rehabilitation services and occupational health were we can provide excellent customer care. The clinic's personal touch is a refreshing change from the for-profit chains that provide rehab, dialysis and occupational medicine. For us, it's not about turning a profit, rather helping our community stay healthy.