Published: Tuesday, August 06, 2013 02:10 PM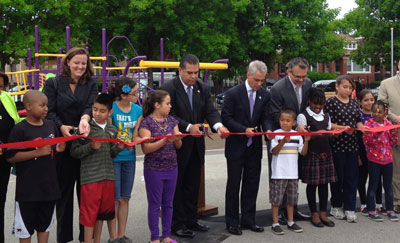 Mayor Rahm Emanuel and State Senator Martin Sandoval inaugurated the new kindergarten classrooms at Tonti Elementary School, one of the new schools benefiting from CPS instituting for the first time ever a full day of kindergarten for its over 30,000 children.
"While CPS has been making this investment steadily for years, today we are moving over the goal line, making the firm commitment that every child – over 30,000 CPS students – will have full day kindergarten," Mayor Rahm Emanuel said. "From investments in early childhood education to pushing for a full school day to ensuring strong principals and teachers in our schools, we are doing everything we can to make sure Chicago's children can thrive and succeed."
"Mayor Rahm Emanuel and I have made investments in early childhood a priority for the children of the southwest side," said Senator Sandoval.
In February, the Mayor announced that Chicago Public Schools will guarantee full-day kindergarten for all students beginning in the 2013-14 school year. In previous years, students had the options of attending half-day kindergarten (between 3 to 4 hours) and a full day kindergarten (7 hours). By guaranteeing all kindergarteners a full day of kindergarten 50% more children will have a full day since Mayor Emanuel came into office. This announcement builds upon the unprecedented $36M investment in early childhood education to increase access to and raise the quality of pre-kindergarten programs for children.