Published: Tuesday, August 20, 2013 06:00 AM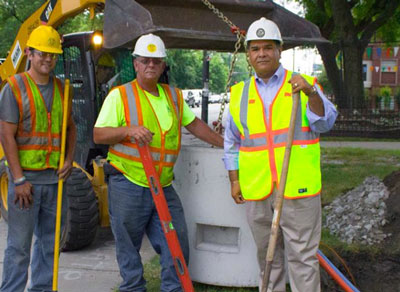 Chicago, Illinois - Senator Martin A. Sandoval, member of the Illinois Senate Committee on Energy, visited a construction site in the southwest side of Chicago where fiber optic cables were installed, furthering Mayor Emanuel's Broadband Challenge initiative.
The Broadband Challenge seeks to create a gigabit-speed fiber network in targeted commercial and industrial corridors, establish free wireless service in parks and public spaces, and increase accessibility and affordability of Internet service in under-served areas across the city.
"Expanding our fiber optic cable infrastructure is critical to achieving this goal," said Mayor Emanuel.
"I applaud Mayor Emanuel's commitment to make Chicago the most connected city in the world," said Senator Sandoval. "The broadband initiative will create jobs, improve neighborhood safety, enhance education and improve health care services."