Published: Tuesday, February 11, 2014 06:00 AM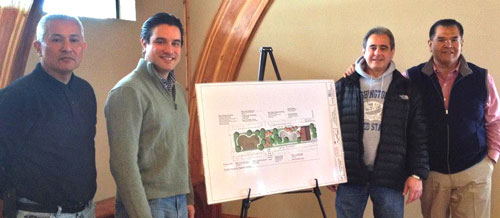 Berwyn, Illinois – The North Berwyn Park District and Mayor Robert Lovero recently hosted State Senator Martin Sandoval (D-11) for the unveiling of Hett Park, located at 19th and Cuyler Street in Berwyn.
Hett Park, named in honor of Thomas A. Hett, is the latest addition to the North Berwyn Park District. Formerly Cuyler pool, Hett Park is home to Brocato playground, "the Studio" a new dance and fitness facility as well as a soon-to-be-constructed water park.
Thomas A. Hett was instrumental in the formation of the North Berwyn Park District; Mr. Hett guided residents through the legalities of forming a new park district that ultimately led to the initiation of the North Berwyn Park District. Mr. Hett served as Berwyn Township Attorney, Berwyn City Attorney, 6th Ward Alderman, Mayor of the City of Berwyn from 1977-1980 and served as Judge of the Circuit Court of Cook County from 1980-2000.
"The City of Berwyn will continue to thrive under the leadership of Mayor Robert Lovero and North Berwyn Park District's Executive Director Joe Vallez," said Senator Sandoval. "Their drive to improve the quality of life to the residents was instrumental with bringing funding to the City of Berwyn.
"Hett Park was made possible by a DCEO grant," said Joe Vallez. "Which was sponsored by Senator Sandoval."
Hett Park, through a combination of features at Brocato playground, the Studio dance and fitness facility and our new water park, will provide years of safe family-friendly activities for the residents of North Berwyn. The park has a completion date of July 2014.