Published: Monday, February 17, 2014 06:00 AM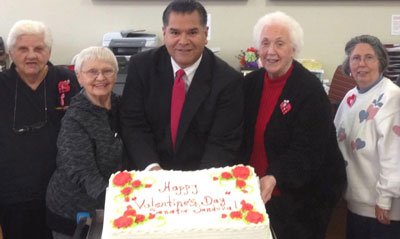 Chicago, Illinois – Last week, State Senator Martin Sandoval (D-11) delivered large vanilla sheet cakes reading "Happy Valentines Day" to the Garfield Ridge Senior Satellite Center, located at 5674 S. Archer Ave, and to the Chicago Department on Aging, Southwest Regional Center, 6117 S. Kedzie Ave.
"Thank you for allowing me to spend this afternoon with you," said Sandoval. "Happy Valentines Day!"
The senator took time to speak with each person at both centers, as seniors thanked Sandoval for visiting and bringing cake to mark the occasion. Seniors at the Southwest Center led the senator to the dance floor where he danced to upbeat music and a cheering crowd.