Published: Wednesday, March 13, 2013 02:46 PM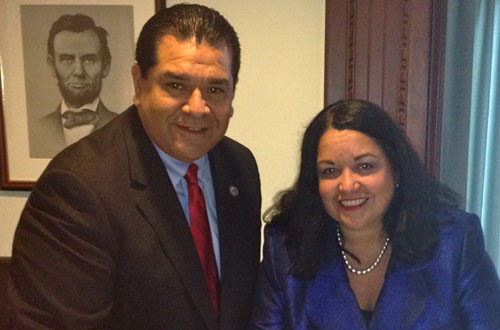 The Regional Transportation Authority (RTA) announced the hiring of Bea Reyna-Hickey as the agency's Chief Financial Officer who will oversee the Finance and Performance Management Department. Senate Transportation Chairman Martin Sandoval (D-11) met with Reyna-Hickey at his Springfield office to lay common ground for pending mass transit projects.
Sandoval said Reyna-Hickey's extensive financial management background and her proven track record in achieving efficiencies and optimizing performance are superbly suited to benefit the region's transit system.
Prior to joining the transit agency, Reyna-Hickey served the public in a variety of progressively responsible positions for over 27 years.
"I am pleased to have Bea join the executive team to lead in further advancing the strategic priorities initiative," said Sandoval. "I look forward to working with Bea, the RTA Board and staff to make financially sound choices benefiting mass transit in northeastern Illinois."
Senator Sandoval represents the 11th Senate District, which includes the neighborhoods of Brighton Park, Clearing, Gage Park, Garfield Ridge, Little Village, West Lawn, and West Cook municipalities of Bedford Park, Burbank, Cicero, Forest View, Lyons, McCook, Stickney, Summit and Riverside.