Published: Tuesday, April 09, 2013 03:03 PM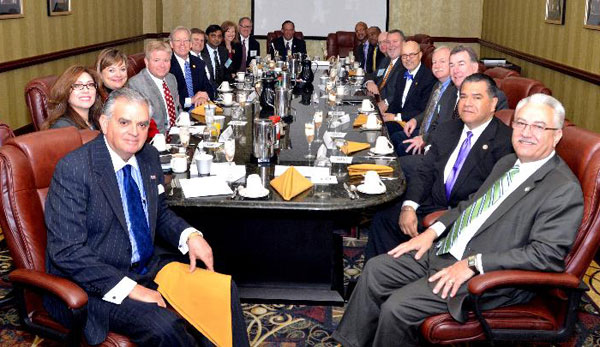 Peoria, Illinois – The annual Innovations Conference on Asphalt and Transportation conference this week included a panel on state funding for transportation projects. Some state lawmakers say there are better ways to fund infrastructure projects than passing occasional massive construction bills. Democratic Senator Martin Sandoval chairs the Senate Transportation Committee. He says he supports forming an independent highway commission to regulate infrastructure funding like other utilities.
"Because it is a utility. We need it. Can't live without it. And we should treat it that way. And we should not have it compete with Medicaid, with Medicare, with schools."
Sandoval says the body could serve to regulate the motor fuel-tax or expand the toll system to generate revenue for road projects.
PHOTO: Senate Transportation Chairman Martin Sandoval (2nd front, right) sits with business, government and education leaders, including former US DOT Secretary Ray LaHood, at the Innovations Conference on Asphalt and Transportation in Peoria.