Published: Friday, May 10, 2013 08:12 PM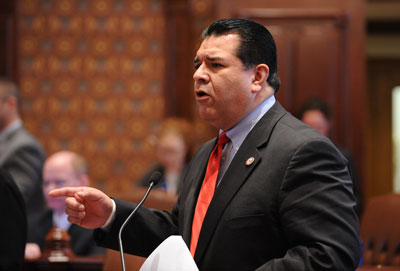 SPRINGFIELD – Illinois State Senator Martin Sandoval (D-Chicago) has passed a measure that will help prevent deadly accidents caused by inexperienced young drivers. It stems from an incident involving a teenager who caused another drivers death while driving under a graduated driver's license (GDL).
"This is legislation was named Kelsey's Law in honor of Kelsey Little, who received serious injuries in an accident caused by a young driver who had a GDL," stated Sandoval. "The GDL has been successful in curbing the number of teen driving deaths since it became law in 2008."
Under current law, a GDL applicant is not required to report any pending traffic citations. House Bill 1009 will prohibit the issuance of a graduated driver's license to any applicant under the age of 18 years until all of the applicant's pending traffic citation's have been resolved.
In addition, under this measure, the secretary of state will be able to cancel the license or permit of any minor if they have had an unresolved traffic citation. After cancellation, the secretary will not issue a new license or permit until the applicant has resolved the citation.