Published: Tuesday, June 11, 2013 01:24 PM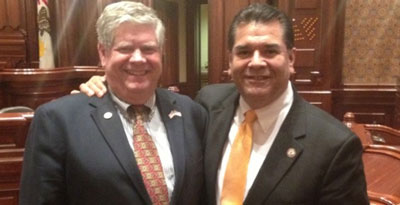 Illinois State Senator Martin Sandoval (D-Chicago) has supported a measure sponsored by Senator Jim Oberweis that will bring Illinois' speed limit in line with other states and increase it to 70 miles per hour.
Senate Bill 2356 increases the maximum speed limit to 70 mph on all interstates and toll highways. Currently, there are 34 other states with speed limits of 70 mph or higher. All of Illinois' neighboring states, except Wisconsin, have speed limits of 70 mph.
At the request of the Illinois State Police, this measure will also raise the penalties for speeding from a petty offense to a misdemeanor.
"There are exceptions written into this legislation," said Sandoval. "Cook County, the collar counties, Madison County and St. Clair County will be able to opt out of this law if they are able to pass a local ordinance."
Sandoval represents the 11th Senate District which includes the neighborhoods of Brighton Park, Clearing, Gage Park, Garfield Ridge, West Lawn, and West Cook municipalities of Bedford Park, Burbank, Cicero, Forest View, Lyons, McCook, Stickney, Summit and Riverside.