Published: Tuesday, July 09, 2013 03:27 PM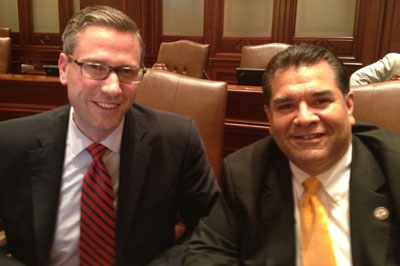 Illinois State Senator Martin Sandoval (D-Chicago) stood with fellow Senator Michael Frerichs in passing the state's first comprehensive set of standards for hydraulic fracturing, often referred to as "fracking."
"We are seeking to regulate this industry before Illinois experiences any of the problems that other states have had," said Sandoval, a member of the Senate Licensed Activities Committee.
Fracking is an increasingly controversial process for extracting natural gas that involves injecting water and chemicals into the ground to force out the gas. In other states, the process has been tied to contamination of drinking water and other environmental concerns. At the same time, the natural gas extraction industry is primed to create jobs and assist in boosting the nation's energy independence.
Senate Bill 3280 requires oversight and regulation of fracking by the Department of Natural Resources. Specifically, fracking operators would be required to provide the department with a complete list of the chemicals used in the hydraulic fracturing process before beginning work. The proposal requires that fracking wastewater pits be lined to prevent leakage into groundwater.