Published: Tuesday, June 25, 2013 06:00 AM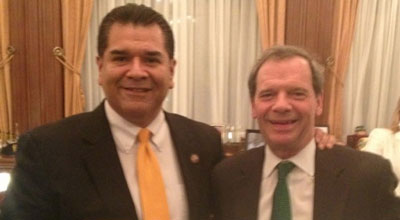 Illinois State Senator Martin Sandoval (D-Chicago) joined with his colleagues in passing a balanced budget for the state. The measure, approved by both the Senate and the House of Representatives is now on the governor's desk waiting for his signature.
"During the budget address earlier this year, Governor Quinn proposed cutting $150 million from state support of public schools. That was unacceptable," said Senator Sandoval. "I worked with the appropriations committee to ensure that we found the dollars to fund education at an adequate level."
The state budget that was sent to the governor focuses on preserving funding for education and pays down old bills.
"I have, and will continue to work to ensure the financial situation in Illinois is turned around. We have focused on funding priority programs that are necessary to the people of Illinois," said Sandoval.
The budget also ends the practice of the state underfunding key budget lines and stringing out social service providers at the end of the budget year.
To ensure college students were also not left holding the bag, the fiscal year 2014 budget includes an additional $2 million for the MAP program.