Published: Tuesday, July 16, 2013 02:11 PM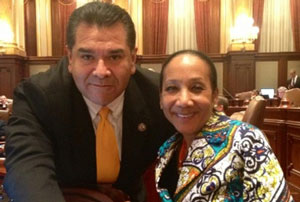 Illinois State Senator Martin Sandoval (D-Chicago) has been a fighter for the people facing foreclose for nearly 10 years. Originally, foreclosure help started as a pilot program targeting communities that had been subject to predatory lenders. Since then, Sandoval has continued to fight to keep people in their homes
"We passed a number of measures this year to help those that may be facing foreclosure," said Sandoval. "I do not want the residents of Illinois to fall through the cracks or face foreclosure alone when federal programs end."
Senate Bill 56 extends the expiration date of a law that was enacted in 2009 to offer relief to homeowners struggling with their mortgages. It requires that lenders give homeowners 30 days notice to seek housing counseling before filing a default on a home loan. Should a homeowner decide to seek counseling, the lender is required to grant an additional 30 days to work out a settlement before a foreclosure action may be filed with the courts.
Although the economy is on the upswing, homeowners statewide are still feeling the effects of the decline. Cook County has the 12th highest foreclosure rate in the state. Continuing to offer these protections and services to keep people in their homes is imperative to continuing our economic recovery.
Another measure, Senate Bill 1602, provides protection to tenants that live in a building that is in foreclosure. The legislation proposes that tenants would be entitled to stay in their apartment through the end of their lease, independent of a foreclosure filing. If a new owner buys the property, the new owner must provide 90-days notice if they do not plan to renew the lease. The new owner can make an offer to the tenant to terminate the lease early, but only if certain qualifications are met.
Senate Bill 1740 creates a property tax incentive to those who purchase and rehabilitate abandoned properties.