Published: Monday, December 30, 2013 06:00 AM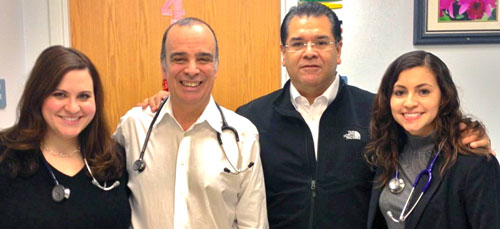 Chicago, Illinois – State Senator Martin Sandoval (D-11) met with doctors of Mercy Medical recently to discuss Medicaid coverage for the Latino community, as Medicaid cuts loom.
"Medicaid's critical role in providing access to health care for Latinos, coupled with the heavy burden of chronic disease suffered by this group, means Medicaid coverage can truly mean the difference between life and death for Latinos with serious health care needs," said Senator Sandoval.
For decades, researchers have documented that Latinos in the United States bear a disproportionate burden of chronic diseases. Not only are they more likely than whites to suffer from chronic diseases such as diabetes, asthma, and certain cancers, they are also more likely to get sicker from some of these conditions—to experience complications, to have poorer health outcomes, and even to die prematurely.
Medicaid, the state and federally funded health insurance program for low-income people, has historically played a critical role for minorities, providing coverage for millions of Latinos of all ages. While Medicaid covers many more white people, because Latinos tend to have lower incomes than whites, they are more than twice as likely to rely on Medicaid for health coverage. In the Latino community, a little more than one in four people relies on Medicaid for their health care; in contrast, Medicaid covers fewer than one in eight whites. Medicaid helps roughly half of all Latino children get a healthy start in life. And it helps Latino seniors and people with disabilities that need long-term care.
Senator Sandoval hosted a health care summit in July and has been public on his disappointment to Medicaid cuts.
"Without Medicaid, many of these seriously ill people would not be able to afford the care they need. For them, Medicaid coverage is critical. Federal or state cuts to the Medicaid program would truly put them at risk," stated Sandoval.
Senator Sandoval represents the 11th Senate District, which includes the neighborhoods of Brighton Park, Clearing, Gage Park, Garfield Ridge, Little Village, West Lawn, and West Cook municipalities of Bedford Park, Burbank, Cicero, Forest View, Lyons, McCook, Stickney, Summit and Riverside.