Created: Tuesday, March 25, 2014 11:00 PM
Published: Tuesday, March 25, 2014 11:00 PM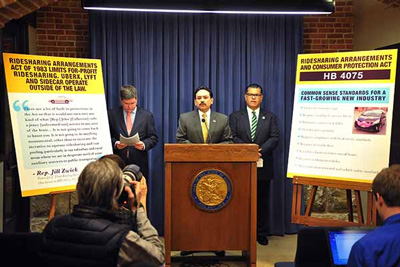 State Senators Tony Munoz (D-Chicago) and Martin Sandoval (D-Chicago) joined State Representatives Mike Zalewski (D-Riverside) and Dennis M. Reboletti (R-Addison) at a press conference in bipartisan support of House Bill 4075, known as the Ridesharing Arrangements and Consumer Protection Act.
"If taxi drivers and chauffer drivers are doing it, then they [commercial ridesharing companies] should be under the same regulations," said Munoz. "When consumers are utilizing Sidecars or taxi drivers it's in the best interest of the citizens to have safety on our side."
The legislation would require commercial ridesharing companies to have suitable insurance, hire appropriately licensed drivers, use safety inspected vehicles, and serve consumers with disabilities and underserved communities.
"We have held hearings and discussions with these ridesharing companies," said Sandoval, Chairman of the Transportation Committee. "It was very clear by listening to testimony of insurance experts that pedestrians and riders as well as the drivers of these ridesharing companies are in harm's way."
Statewide standards would also:
• Close the insurance gap ($500,000 combined commercial liability insurance)
• Require chauffer licenses for all drivers
• Eliminate the use of waivers of liability by rideshare companies
• Require vehicle safety standards, including regular inspections
• Limit hours drivers can be on the road with a maximum 10-hour driving shift in a 24-hour period
• Prohibit price gouging
• Require accessible vehicles for passengers with disabilities
• Require compliance with local service standards, including service to low-income communities
• Require vehicle marking and clear posting of a phone number for customer complaints
• Allow communities to establish and enforce stricter oversight over rideshare companies, but not ignore the statewide regulatory threshold established by the General Assembly
HB 4075 is scheduled to be heard in the House Business and Occupational Licenses Committee on March 26.
Watch Senator Sandoval's comments: