Created: Wednesday, April 16, 2014 03:03 PM
Published: Wednesday, April 16, 2014 03:03 PM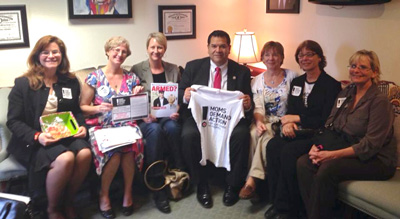 SPRINGFIELD – With the new concealed carry law, business locations may post a graphic "no-guns-allowed" sign. State Senator Martin Sandoval (D-11) hosted members of Moms In Action (MIA) at his State Capitol office to hear their proposal to replace the pictoral sign with a written version instead. The purpose of removing the image of the gun from the sign is to ease the worry of a potential threat when patronizing local businesses.
Moms In Action is a group of moms of all ages who meet monthly for fellowship, growth in their relationship with Christ, and to serve others and the community.