Published: Tuesday, April 14, 2015 01:58 PM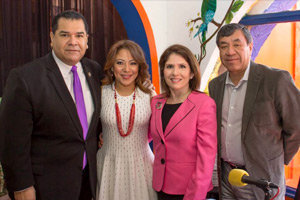 Chicago- Senator Martin Sandoval (D-Chicago), along with Latino radio personality Luisa Maria, will celebrate International Women's day by honoring several prominent Latina women.
One of Illinois' most impactful and dedicated Latina women, Lt. Governor Evelyn Sanguinetti, will share stories of her life struggles and her determination to overcome them, which eventually earned her the title of Illinois' first female Hispanic lieutenant governor.
Other honorees are: Ligia Granados (Journalism), Dr. Ana Espinoza (Education), Dr. Christina Arellano (Medicine), Maria Pesqueira (Women's Rights) and Claudia Ayala (Community). Attendees to the event will have the chance to hear these women's stories of how they became so successful.
"It's important to acknowledge these successful Latina women and to see that no matter where they started in life, they strived to overcome adversity and became very important figures," Sandoval said. "Their stories of dedication, determination and perseverance can easily inspire someone who feels as though they will never make it out from where they are in life to reach for success. These women are tangible proof that it can happen if you don't give up."