Published: Friday, May 15, 2015 03:55 PM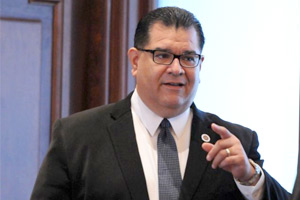 CHICAGO- Area residents had a chance to sit down face-to-face and talk about their concerns with Senator Martin Sandoval (D-Chicago).
Illinois is trying to get out of a $6 billion dollar deficient that has put education, public safety, social services and other services at risk. Sandoval's main goal was to listen and get a better understanding on how the cuts impacted residents and to offer solutions.
"As a senator, It's my job to not only talk about what I want to change, but to also actively go to the different businesses and neighborhoods to hear from the people living there what they need improved," Sandoval said.
Earlier this week, Sandoval visited community groups, businesses and residents within different neighborhoods -- Gage Park, Brighton Park, McKinley Park, Garfield Ridge and the Southwest side of Chicago -- to get their feedback on social services, economic development, education, jobs and public safety.
Sandoval's first visit was to Socorro Sandoval Elementary School. The elementary school principal, Ana Espinoza, was happy the senator took time to visit.
"We had the chance to talk about the new program called safe passage, which puts a team of 6 parents in charge to monitor student arrival and dismissal to make sure everyone is safe", Espinoza said. "With three schools so close together, that meant thousands of students traveling in different directions at one time, the program has been a great addition."
Sandoval not only visited with the principal but also went into the classrooms.
"When the senator goes into the classroom, he tells his story of starting out as an immigrant and then working his way up to where he is now," said Espinoza. "He promotes not only just showing up for school but also putting in the effort and persevering."
Sandoval also visited the National Latino Education Institute, where the goal is to enhance the quality of life for Latinos through educational, vocational and employment services. He met with the Executive director Elba Aranda-Suh who said, "To be successful in life, it is vital people have a strong sense of work force development and education to succeed in life. Sandoval understands that."
Next stop was Chicago's Southwest side non-profit organization called the Brighton Park Neighborhood Council, which strives to create a safer community.
Executive Director Patrick Brosnan said, "The participation of Senator Sandoval really motivates us to carry on with our mission to do the most we can for our community members, he said. " The senator proves he truly cares when he comes down to meet with us and the youth really appreciate it."
Sandoval also visited with the Garfield Ridge Retail Entertainment and Amusement Team (GRREAT) to get the ball rolling on economic development down Archer Road in the Garfield Ridge neighborhood.
"Sandoval has great ideas and never fails to focus on changes that would be best for the community," said GRREAT executive director John Kapusciarz. "I look forward to working with him on this project."
Sandoval visited several other locations along his tour.
"The only way I will get a better understanding on what's working and what isn't is if I go and talk to residents myself," Sandoval said. "I enjoy meeting with different groups and will continue doing so."