Published: Friday, March 08, 2013 03:37 PM
New buses offer increased efficiency and comfort for riders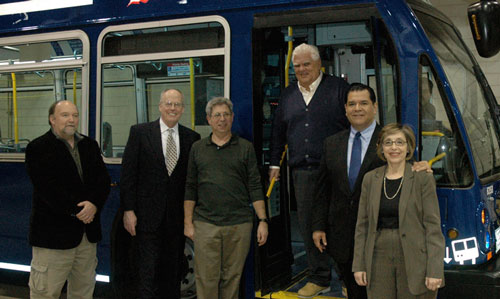 Melrose Park, Illinois – In mid-December, the first of the newest line of Pace buses were placed into service in the western suburbs, operated by Pace's West Division in Melrose Park. On Friday, Illinois Senator Martin Sandoval and Melrose Park Mayor Ron Serpico joined Pace officials in welcoming the buses to the agency's fleet.
Sandoval, who serves as chair of the Senate Transportation Committee, looked over the buses and took a tour of the garage, learning about Pace's GPS-based dispatch system that helps to maintain on-time performance but can also provide critical information to first responders in the event of an emergency on a bus. "It's always good to come out to a facility like this to see how the money that we, as a state, invest in services like Pace to help the people that rely on them," said Sandoval.
The new buses are 40 feet in length and seat 37 people, or 31 when up to two mobility devices are on board. The buses have a low floor to ease boarding and exiting and feature a ramp that can be deployed for use by people with wheelchairs or other mobility devices. Manufactured in Riverside, California, the ElDorado Axxess model has a number of cutting-edge safety features including audible turn signals to provide an additional alert to pedestrians that the bus is preparing to turn, and security cameras. The buses are equipped with a system that can provide wi-fi access to riders, though it is expected to be activated at a later time. The buses are powered by diesel engines but are outfitted with emissions control systems that filter soot and other particles from the exhaust.
The buses are already in use in the area covered by Pace West Division, which includes western Cook and eastern DuPage counties. Communities include Cicero, Oak Park, Forest Park, Maywood, Oak Brook, Elmhurst, Melrose Park and many others. West Division employs approximately 270 people, including roughly 255 bus operators and maintenance personnel.
PHOTO: Senator Martin Sandoval (D-Cicero) - Chairman of the Transportation Committee in the Illinois Senate (second from the right) and Melrose Park Mayor Ron Serpico (left of Sandoval) joined Pace officials in welcoming the buses to the agency's fleet