Published: Friday, May 15, 2015 03:55 PM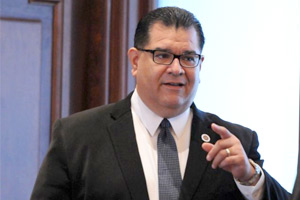 CHICAGO- Area residents had a chance to sit down face-to-face and talk about their concerns with Senator Martin Sandoval (D-Chicago).
Illinois is trying to get out of a $6 billion dollar deficient that has put education, public safety, social services and other services at risk. Sandoval's main goal was to listen and get a better understanding on how the cuts impacted residents and to offer solutions.
"As a senator, It's my job to not only talk about what I want to change, but to also actively go to the different businesses and neighborhoods to hear from the people living there what they need improved," Sandoval said.
Earlier this week, Sandoval visited community groups, businesses and residents within different neighborhoods -- Gage Park, Brighton Park, McKinley Park, Garfield Ridge and the Southwest side of Chicago -- to get their feedback on social services, economic development, education, jobs and public safety.