Published: Wednesday, April 16, 2014 03:08 PM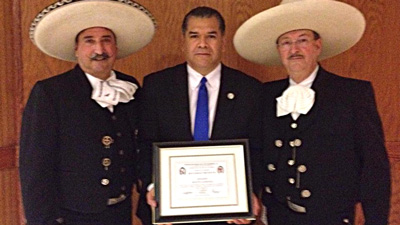 SAN FRANCISCO, CA – State Senator Martin Sandoval (D-Chicago) was the guest of honor at the annual Federation of Charros conference where he was recognized for his hard work and dedication as a statesman.
"I thank the Federation of Charros for their continued effort to promote and preserve the rich traditions of Mexican and American Rodeo and it's culture," said Senator Sandoval. "Community involvement is a big part of this organization and as long as I am able, the Federation can count on me for support."
Charros dedicate countless hours of training and spend thousands of dollars to learn and execute official competition in a controlled, safe and professional manner. Mexican rodeo has extensive rules of competition and animal welfare that ensure a reasonably safe environment for all competitors and livestock. Contemporary competition and safety rules are very similar to American rodeo.