Published: Tuesday, September 10, 2013 06:00 AM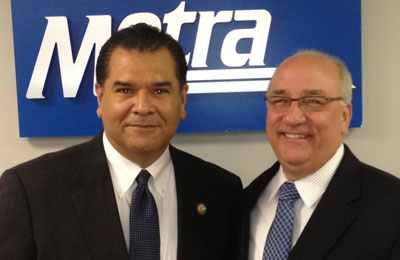 Senate Transportation Chairman Martin Sandoval (D-Cicero) met recently with Don Orseno, Interim Executive Director/CEO of Metra, for a briefing on the current rehabilitation project at the Cicero Metra station.
The $4.5 million project calls for: Two new seven-car platforms with tactile warning strips, a new warming house on the outbound side, a headhouse and ramp enclosure with a heated waiting area on the inbound side, and a reconstructed ramp to comply with ADA requirements, high-intensity overhead lighting, utility improvements, landscaping and a new parking lot.
"I'm excited for the residents of Cicero," said Senator Sandoval. "Cicero riders will have a safe, modern and appealing rail station in their own backyard."
The rehabilitation is on schedule and will be completed by the end of September.